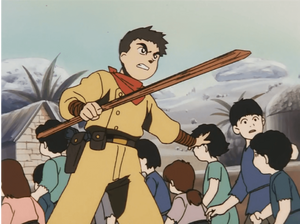 Shuzo Matsutani (松谷 修造), also known as Shuu (シュウ), is the main protagonist of Now and Then, Here and There.
Personality
Edit
Shu is a kid who is very up front about his emotions, if he feels upset or angry he will let everyone know about it. He charges into everything head-first without consideration of anything, it is common for Shu to be told that he needs to start thinking about things before he acts. He is very moral driven and if he feels what is happening is wrong, he will be the first to attempt to stop it, even if it means going to the brink of death. He is very kindhearted and sparing, he refuses to kill anyone even if they tried to kill him, this is shown when he was fighting Nabuca, when Nabuca was about to be incinerated he dashed to help Nabuca up and ended up saving his life. Though it appears he is very childish, he regards things such as torture as something that does not phase him.
Appearance
Edit
Shu is a kid who is about average size compared to everyone else. His main weapon is a wooden stick and combined with his knowledge of kendo, this can be a deadly combo. He has short dark hair and dark eyes.
Shu is the main protagonist in "Now and Then, Here and There." While walking around the town, he finds himself with a girl name LaLa-Ru. Upon finding LaLa-Ru he is teleported to another more advanced world, and in it, LaLa-Ru gets kidnapped and Shu is on a mission to get her back. While on this journey, he ends up encountering the worst that war has to offer: slaughter, rape, torture, and genocide. Shu will have his morals tested many times.
Shu is first showed at the start of a day to be excited about his upcoming kendo match. When he gets to his kendo match, he fights someone who is a lot stronger than him. Upon Shu's defeat, Shu believes him to be his rival, while Edo believes Shu is just a run of the mill opponent, scolding Shu saying that he needs to think of a plan before running in. Shu brushes this off and in the process pissing off Edo.
Community content is available under
CC-BY-SA
unless otherwise noted.